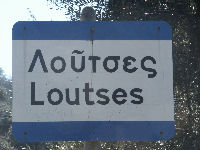 Watch Out For Changes!
---
The site is about to undergo significant changes in both appearance and content. Don't worry, all the old stuff will still be available as part of the revamp includes archiving old content.
In order to do this, we may occasionally have to take the site offline but we will do our utmost to keep disruption to a minimum. Please be patient!
---
---
Special report!
We have posted a special report relating to the recent fires near Loutses during July and August 2011. It can either be accessed through the 'Newsletter' menu item or by clicking here. The extensive image gallery can either be accessed from the sub menu under the Newsletter menu item for Fires! or by clicking here.
---

Where is Loutses?
For those unfamiliar with Corfu, Loutses is situated to the north of the island and sits upon the eastern side of Mount Pantokrator, a little over 300 metres above sea level. It commands spectacular views of Mount Pantokrator to the south, Albania to the east and the Ionian Sea to the north.
My wife, Tricia and I have lived in Corfu since April 2002 and moved to Loutses in October 2003. We originally rented a property until we were sure that we really wanted to settle in Greece.
Having made that decision, we found and purchased a piece of land in Loutses where we subsequently had our current home built. We have documented the trials and tribulations of having a house built in Corfu on another website which you will find at www.thehelm.co.uk.
If you are considering building a house, or having a house built in Corfu, we would suggest that you will not waste your time viewing that site.
Our main website, 'The Corfiot and All Things Greek, can be found at www.thecorfiot.com .
The aim of this website


Our main site exists to extol the virtues of Corfu in particular and Greece in general. This site exists purely to give an insight into the village that we now call home.



We hope that over time we will be able to give something of an idea of what it is like to live as a foreigner in a Greek village. It goes without saying that it is totally different to both the life of the tourist and life in the anonymity of a city. This is very much a 'labour of love' as the publishing of this site is fitted in with our normal lives. We have included a small image library which we will add to as time permits along with other information that may be found of interest to some at least.
We welcome any comments or for that matter criticism. (Preferably constructive!) Please feel free to contact us.
Enjoy!
Bob & Tricia Giles
Loutses, Corfu.
Regrettably, in this day and age it is necessary to add:-
"Please note that any views expressed, unless otherwise stated are those of copyright holders."